Wordfence just completed a free and automatic deployment of their commercial real-time threat information to all Ukrainian websites using the .UA top-level domain.
According to Wordfence, it which took place 48 hours ago.
Over 8,000 websites in Ukraine that are utilizing the free version of Wordfence have become much more safe as a result of this.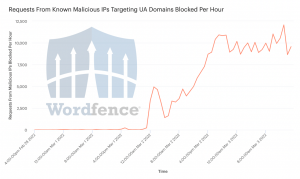 WordFence Blocks Known Malicious IP's
On March 2nd, at 12 p.m. UTC, those sites began receiving updates from our servers and our IP blocklist, which began updating immediately.
In response to attempts by known malicious IP addresses to access these sites, they were restricted.
The number of banned requests per hour increased from a low number, fewer than 200 to a high number of around 10,000 blocked requests per hour.
Approximately, there was about a quarter-million stopped requests from known malicious IPs since then,
All of which were directed towards Ukrainian websites.
Wordfence says, they also stopped Russian government websites from utilizing Wordfence, and this is effective immediately.
Those websites will retain their Wordfence installations and will continue to operate normally,
However, they will no longer get any threat intelligence from our servers as a result.
They will no longer receive firewall rules, malware signatures, a list of IP addresses currently engaged in brute-force attacks, or our IP blocklist, as a result of this change.
WordFence says that they are not taking any action against non-government websites in Russia because they do not want to cause any inconvenience to the general public.
Finally, Ukrainians will continue to benefit from Wordfence's technology while they protect their country.
says Mark Maunder – Wordfence Founder & CEO.
See what others are reading: