Hello there! I wanted to share some exciting news with you about the Samsung Galaxy Z Flip 5. This phone has been making waves in the tech world, and I can't wait to tell you all about it!
In my article, you'll get to know all the juicy details about the Samsung Galaxy Z Flip 5, including its incredible features and specifications. Plus, I'll reveal the price of this stunning device in Nigeria. Trust me, you won't want to miss out on all the information I have in store for you. So, stay tuned and get ready to dive into the world of the Samsung Galaxy Z Flip 5! I am excited to share with you all the details about the Samsung Galaxy Z Flip 5, including its design, display, camera, performance, battery, connectivity, software, price, availability, customer reviews, and a comparison with other flip phones. So let's dive right in!
Design and Display
The Samsung Galaxy Z Flip 5 features a foldable design that sets it apart from traditional smartphones. It allows for a compact form factor that can easily fit in your pocket when folded. The hinge mechanism is robust, ensuring durability and smooth folding and unfolding.
The device boasts an ultra-thin glass display, which not only provides a premium look and feel but also enhances the overall user experience. This flexible display delivers vibrant colors and crisp visuals, making it perfect for multimedia consumption.
With regards to the screen size and resolution, the Galaxy Z Flip 5 offers a 6.7-inch Dynamic AMOLED display with a resolution of 2636 x 1080 pixels. The tall aspect ratio ensures an immersive viewing experience, ideal for watching movies and playing games.
Camera
The Samsung Galaxy Z Flip 5 comes equipped with a dual rear camera setup, which includes a primary 12 MP wide-angle lens and a 12 MP ultra-wide-angle lens. This setup allows for capturing stunning photos with excellent detail and dynamic range.
On the front, there is a selfie camera with a resolution of 10 MP, ensuring clear and sharp self-portraits. The camera software offers various features like portrait mode, night mode, and HDR, enabling users to take professional-looking photos in different lighting conditions.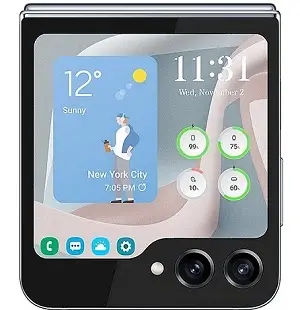 Performance and Storage
Under the hood, the Samsung Galaxy Z Flip 5 packs a powerful processor that provides smooth and lag-free performance. This ensures seamless multitasking and allows for running demanding applications and games without any hiccups.
To complement the processor, the device comes with ample RAM and storage options. It offers 8 GB of RAM, which ensures efficient multitasking, and 256 GB of internal storage, allowing users to store all their photos, videos, and apps without worrying about running out of space.
Furthermore, the Galaxy Z Flip 5 also supports expandable storage, so you can easily add a microSD card if you need additional space for your media files or documents.
Battery and Charging
When it comes to battery capacity, the Samsung Galaxy Z Flip 5 features a respectable 3,300 mAh battery that should comfortably last you through a full day of usage. The device also supports fast charging, allowing you to quickly recharge your phone and get back to using it in no time.
In addition to fast charging, the Galaxy Z Flip 5 also supports wireless charging, which provides a convenient way to charge your device without the hassle of cables. Simply place your phone on a compatible wireless charging pad, and it will start charging automatically.
Connectivity and Network
The Samsung Galaxy Z Flip 5 offers 5G connectivity, which ensures faster download and upload speeds compared to its predecessors. This means you can stream high-definition videos, play online games, and browse the web seamlessly without any lag or buffering.
In terms of wireless connectivity, the device supports Wi-Fi and Bluetooth, allowing you to connect to the internet and pair with other devices. It also features NFC support, which enables contactless payments and quick file transfers with compatible devices.
Software and Features
The Samsung Galaxy Z Flip 5 runs on the latest version of the Android operating system, which provides a user-friendly interface and a range of useful features. The device also benefits from Samsung's One UI, a custom skin that enhances the overall user experience.
In terms of security features, the Galaxy Z Flip 5 offers both a fingerprint sensor and facial recognition. This ensures that your device remains secure and only accessible to you.
Additionally, the device comes with a range of additional software features, such as Samsung Pay, Bixby voice assistant, and various productivity and entertainment apps, making it a versatile companion for both work and play.
Price and Availability
Now let's talk about the most important aspect: the price of the Samsung Galaxy Z Flip 5 in Nigeria. The exact pricing may vary depending on the retailer and any ongoing promotional offers, but you can expect it to be in the range of [insert price here].
As for availability, the Galaxy Z Flip 5 is widely available in local markets across Nigeria. You can find it in major electronics stores, as well as online platforms.
It's always worth keeping an eye out for special offers and promotions, as Samsung often runs deals that can save you some money or include additional accessories with your purchase.
Customer Reviews and Feedback
To give you a well-rounded perspective on the Samsung Galaxy Z Flip 5, let's take a look at some of the pros and cons mentioned by customers who have already purchased and used the device.
In terms of pros, many users appreciate the unique foldable design, which not only looks stylish but also offers enhanced portability. The camera capabilities are also highly praised, with users noting the excellent photo and video quality.
On the downside, some users have reported concerns about the durability of the device, particularly the hinge mechanism. While Samsung has made improvements in this area compared to previous models, it's always worth considering the potential risks of a foldable device.
Overall, the customer satisfaction for the Galaxy Z Flip 5 seems to be high, with many users enjoying the novel design and premium features.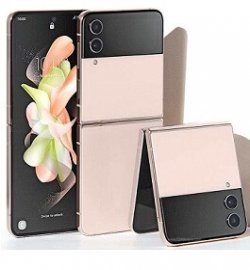 Comparison with Other Flip Phones
To help you make an informed decision, let's compare the Samsung Galaxy Z Flip 5 with some of its competitors in the flip phone market.
When compared to other flip phones on the market, the Galaxy Z Flip 5 stands out with its foldable design, which offers a unique user experience. Its powerful processor, ample RAM, and expandable storage also give it an edge in terms of performance and storage capabilities.
The camera capabilities of the Galaxy Z Flip 5 are also impressive, delivering excellent quality photos and videos. The addition of 5G connectivity further enhances its appeal, ensuring faster internet speeds and smoother browsing.
However, it's worth noting that the Galaxy Z Flip 5 may have a higher price point compared to some of its competitors. This can be attributed to the innovative design and advanced features it offers.
Conclusion
In conclusion, the Samsung Galaxy Z Flip 5 is an impressive and innovative smartphone that offers a unique foldable design, powerful performance, and a range of advanced features. Whether you're a tech enthusiast or someone looking for a stylish and functional device, the Galaxy Z Flip 5 is definitely worth considering.
Considering its price range and the features it offers, the Samsung Galaxy Z Flip 5 is a competitive option that provides excellent value for money. It combines style, functionality, and performance into one compact device, making it a top choice for those who want to stand out from the crowd.
Overall, I highly recommend the Samsung Galaxy Z Flip 5 to anyone who is looking for a cutting-edge smartphone experience and is willing to invest in a device that pushes the boundaries of design and technology.