A computer Engineer can work almost anywhere in today's time and age.
Earning a degree in computer engineering equips you with expertise from both the field of computer science and the field of electrical engineering.
As a Computer Engineer, one of your primary responsibilities will be to participate in the process of designing computer hardware and software systems.
In addition, due to your skill in integrating hardware and software systems, there will be a high demand for the services you provide.
Fields/Places where computer engineers can work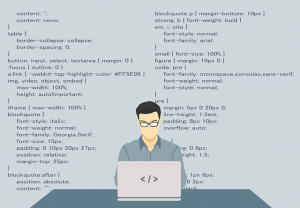 Computer engineers can be found working in a wide variety of environments, including academic institutions, research labs, businesses, government agencies, and private companies.
It's possible that you'll be working to find answers to problems, developing and evaluating new technologies, or collaborating with others to create innovative products.
Here's our humble opinion about Where a computer Engineer work can work?
You should have simply flipped the question around and asked, "Where Can't a Computer Engineer Work?" rather than "Where Can a Computer Engineer Work?"
A Computer Engineer is basically employable everywhere that requires the use of a computer system.
In today's rapidly changing digital environment, I can't imagine a profession in which a computer engineer would be out of place.
To be more precise, though, the following are some industries in which a computer engineer may find employment:
In software Developing Organizations: As a Requirement Analyst, Software Designer, Database Designer, Software Developer, Software Debugger, Project Manager, etc.
In the large eCommerce corporations (Like Amazon,ebay): As Data Analyst
In the organizations that handles big data(like Google,Facebook): Data Analyst, Data Mining, Maintenance Engineer, System Developer, System Analyzer, Activity Monitoring, Community Team, Algorithm Analyst And Designer, etc.
In vehicle Manufacturing Corporations(like BMW,Bugatti): As Data Manager, As System Engineer, As System Designer, etc.
In Electronic Corporations(like Intel,SAMSUNG): System Engineer, Product Analyst, System Designer, System Debugger, Algorithm Designer, Circuit Designer, Product Engineer, Product manager, etc.
Only a few of these particular places and their designations are listed above.
Representative Job Titles and Area of Specialization
Here are some representative Job titles and their area of Specialization:
Telecommunications Engineer
Computer Architect
Communication Engineer
Network Systems Engineer
Systems Architect
Computer Engineer
Circuit Designer
Research and development
Systems Programmer
Electrical and Electronics Engineer
Professor/teacher
Nature of the Work
Computer Engineers work in a variety of environments: universities; research; industry; government and private business organizations.
You may be finding solutions to problems, formulating and testing devices, or working in teams to develop new products.
Places of Employment
Electrical and electronics industries
Telecommunications
Aerospace industry
Engineering firms:
Research and development
Entertainment industry
Transportation industry
Universities and colleges
Local/state/federal governmental agencies
Research institutions
Consulting businesses
Defense industry
Training
The computing field is one of the fastest growing segments of industry and one of the fastest changing technologically.
As a Computer Engineer, you will need to stay abreast of the latest technological advances through seminars, conferences, and advanced courses and training.
Many positions are available to graduates with a bachelor's degree depending on the type of coursework you completed and experience you gained as an undergraduate.
Some jobs may require an advanced degree.
If you want to work in a research laboratory, a Ph.D. is usually required although there are some research opportunities for those with a master's degree.
You would need a Ph.D. in order to teach and conduct research at a university.
In addition, a computer engineer can work in an educational organization, in a company that deals with telecommunications, hospitals, televisions, FM radios, banking sectors, researches, cyber security, as system security Manager in various organizations, weather stations, airports, any industries, etc.
What is your opnion on the our article "where can a computer engineer work".
Your comments play a great role to the kind of articles we publish.