Apple Music is one of the most popular music streaming services in the world, providing access to millions of songs and curated playlists.
However, its subscription fee can be a turn off for some users. Luckily, if you are an MTN subscriber, there is a way to get six months of free Apple Music.
In this guide, we will walk you through the steps to claim this offer, so you can enjoy your favorite tunes without breaking the bank.
MTN Launches Apple Music on iOS and Android.
MTN, one of the leading telecoms companies in Nigeria, has partnered with Apple Music to provide its customers with six months of free Apple Music.
With this collaboration, both Android and iPhone users will be able to use their MTN lines to subscribe to Apple Music through SMS, USSD or the myMTN App.
How to Get 6 Months of Free Apple Music on MTN with myMTN app
Here is a simple step by step guide on how you can enjoy free 6 months of Apple Music on the MTN network on your Android and iOS devices.
Step 1: Download myMTN app from the App Store or Google play store depending on the device you are making use of.
If the above link seems not to work for you, you can simply search for the "myMTN NG" app on your iOS app store or Google Play store.
Kindly note that there is an older version of the MTN app which is outdated, and I will simply not advise you to make use of it, due to the fact that it may likely not be getting new updates for MTN.
Step 2: Scroll down till you see some banner ads, then swipe left.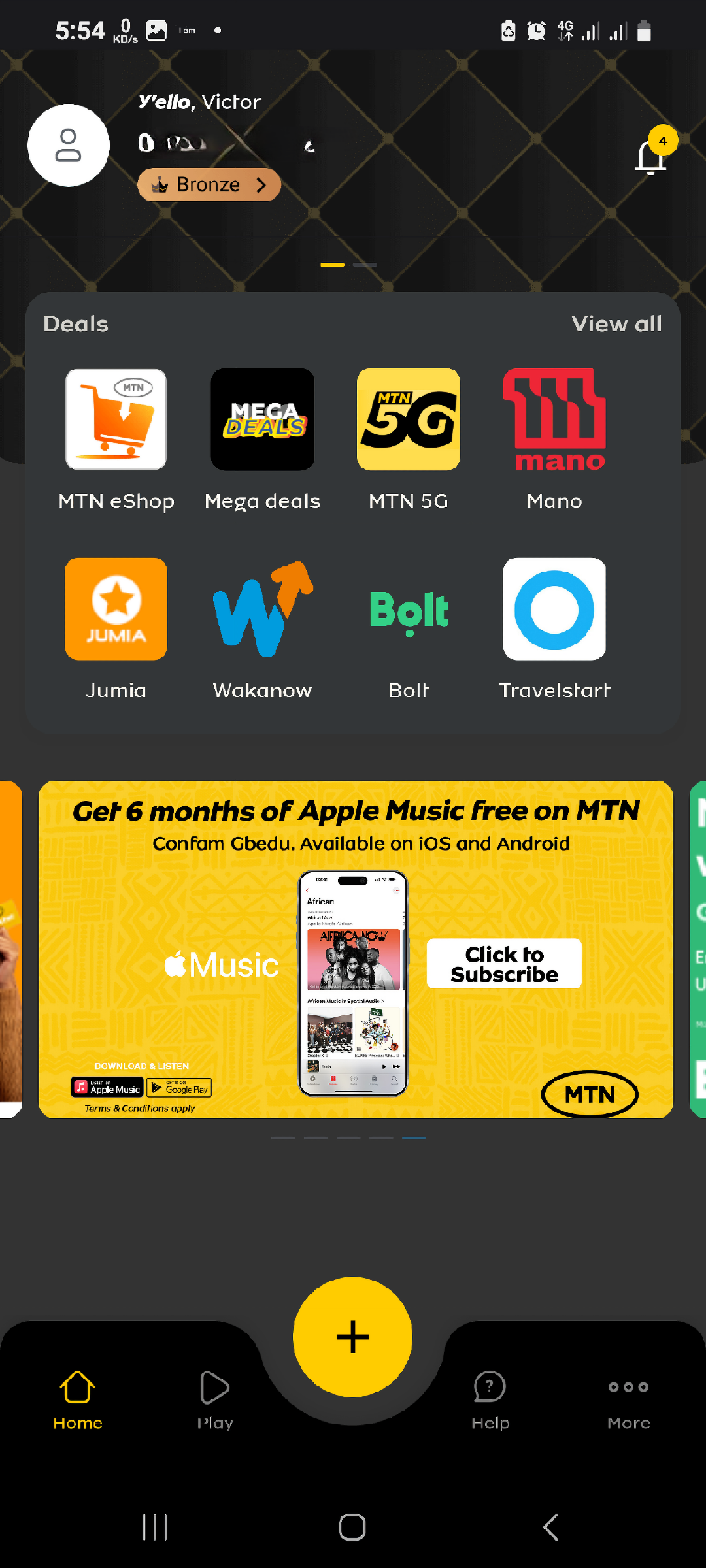 Step 3: Click on it and you will be taken the Apple Music Subscription Page.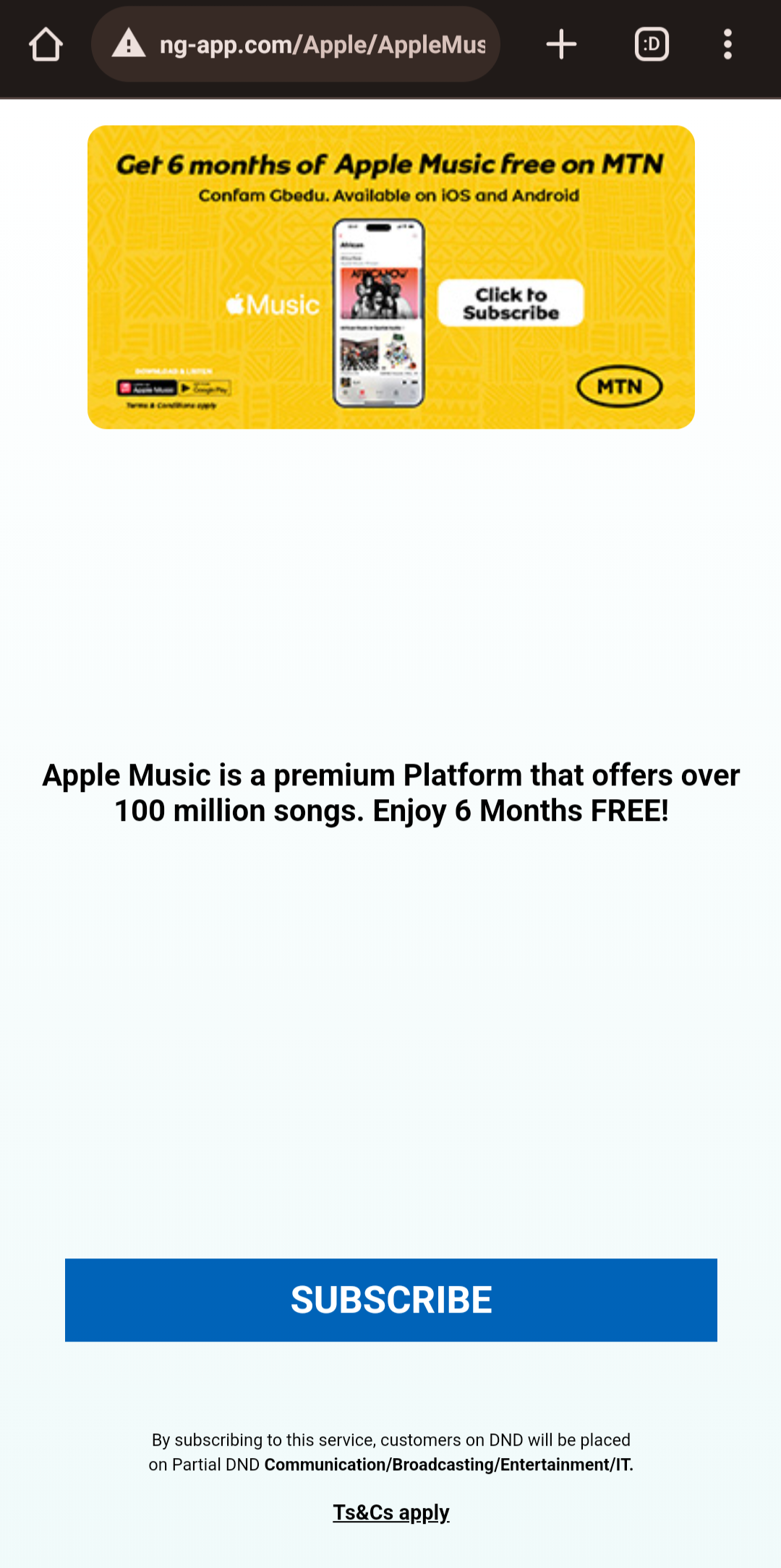 Step 4: Click on Subscribe, and you will get a message to confirm your subscription.
Take note of the MTN number you are subscribing from because that will become your default subscription number.
Although I believe there will be an option to change this number.
Recently, I found out that subscribing for any mtn plan or purchasing internet bundles is super easy and much more convenient compared to other methods.
How to Get Free Apple Music via SMS
To get the 6 months free Apple Music made available to MTN customers is easy. All you have to do is.
Open your messaging app and
Text "Music" to "8000"
How to get Free Apple Music via USSD
Many MTN customers prefer using the USSD method, especially when they are out of data. So, if you happen to be one of them, feel free to follow the below guide.
Dial *447#. You will get a pop-up welcome message to the MTN Content Services Menu.
Select "New Services" by typing "2" into the text box.
Select "Apple Music" by typing "4" into the text box.
Finally select "Apple Music 6months Free@N0" by typing "1" into the text box.
Once you've completed these steps, you're all set to enjoy six months of free Apple Music.  With Apple Music, you can listen to all of your favorite songs, create playlists, discover new artists, and more.
You can even listen to your music offline by downloading your favorite songs and playlists.
Key Takeaway
Via USSD: Dial *447# > Select 2. New services > Select 4. Apple Music > select 1. for free Apple Music.
Via SMS: Send "Music" to "8000".
Via web or Web: MTN Play portal, mtn.ng, MyMTN App
Wrapping up,
In conclusion, if you are an MTN subscriber and a music lover, taking advantage of this six-month free Apple Music offer is a no-brainer.
With access to over 100 million songs, exclusive content, and personalized recommendations, you can enjoy a seamless and immersive music experience without worrying about subscription fees.
Just follow the simple steps outlined in this guide, and you'll be rocking out to your favorite tunes in no time. So, what are you waiting for? Start your free trial today and discover the best of Apple Music.
---
Click the button below to Gain Access to our Members' Exclusive Group, before it fills up again.
Gain Access Now!
---
See what others are reading: