Apple's iOS 16 is the most recent upgrade to Apple's mobile operating system for iPhones. If you do not know this latest iOS 16 includes a number of features that has been accessible on Android devices for a number of years now.
While I appreciate both platforms for their individual strengths, I think we need to draw the line here.
I personal think this company is more of a feature perfectionist, Apple does not just jump in on a trend, rather they lay and wait to perfect these features before bringing it into the tech eco-system.
It's fun to know that these update has being made accessible to the public as a beta version beginning on July 11, 2022, but iOS 16 was finally made available for its official release on September 12, 2022.
---
Must Read: How to Find Your iPhone Even When it's Switched Off
---
Key Takeaways
On September 12, 2022, Apple made iOS 16 available to the public.
Apple has earned a reputation for  " perfecting features".
Apple prioritized more of safety features in their newest update.
Satellite emergency communication is not available on any Android phone but will be on the iPhone 14 by year's end.
Apple has created an app that tells users where to position their phone and an algorithm that compresses texts for usage when there is no cellular network service.
Apple iOS 16 Features Vs Android Existing Features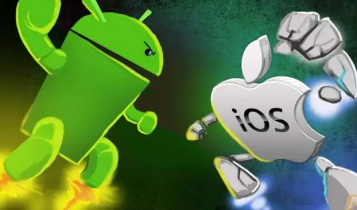 As with many past releases, numerous reviewers have criticized Apple for portraying key features as groundbreaking when they have long been available on Android or some Android-specific suppliers.
When Apple introduces a new iPhone model, such as the iPhone 14, which was just just launched, the company will frequently highlight some of the most recent software updates.
This year, Apple laid a strong emphasis on the development of safety features such as Car Crash Detection, which is able to recognize when users have been involved in an accident and send notifications to pre-set emergency contacts automatically.
On the other hand, Google Pixel devices have had access to this feature for the past three years already.
The iPhone 14 Pro will be the first of Apple's smartphone models to offer an Always-On display (AOD), which was first introduced on select Android-based devices in the year 2016.
Well, here is a list of some of the new features that are being added to iOS that have already been available on Android for at least three years.
Always-On Display (AOD) — First appeared on the Samsung Galaxy J7 in 2016. Since 2008, it has also seen on Nokia phones.
Car crash detection — This feature has been available on Google's Pixel smartphones since 2019.
Support for fitness apps without a smartwatch has been available for several years on Android via Google Fit or Samsung Health.
Haptic feedback on touch keyboard — Introduced in January 2009 for Android 1.0.
Since 2019, Android users have had access to live captions in multiple languages.
Maps app has multiple stops — Google Maps was first released in 2017.
Shared iCloud media libraries – Since 2017, Google Photos users have been able to safely share libraries with others based on dates and content.
Unsend and snooze emails — Since 2018, Gmail has allowed users to cancel sending an email up to 30 seconds after pressing the send button.
Is Apple finally catching up to Android's years-old capabilities?
During the early years of the iPhone, Apple was largely recognized as an inventor; yet, in recent years, the company has earned a reputation for being more of a "feature perfector."
Before releasing a new feature to the public, the company's software and hardware teams prioritize ensuring that the feature is compatible with the entirety of the company's product ecosystem and that it can be accessed by the greatest number of people in as many different locations as possible.
Note: Satellite emergency communication is a function that is not yet offered by any Android phone but will be accessible on the iPhone 14 before the end of the year.
Apple has developed an app that tells users where to point their phone and an algorithm that compresses messages into send-able packages for use in critical situations where there is no cellular network reception available.
These tools are intended for use in areas where there is no availability of cellular network reception.
---
See what others are reading: