MTN Nigeria has partnered with Apple Music, a digital music platform based in the United States, to provide free access to a premium selection of songs as part of its efforts to ensure customers can enjoy quality entertainment on the go.
Customers of MTN who subscribe to the service will have access to Apple Music's library of over 100 million songs, which includes both local and worldwide music.
Because of this partnership, MTN Nigeria will provide its users with a complimentary six-month trial of Apple Music at no additional cost.
After the free trial, they will be required to pay ₦1,000 per month in order to continue streaming or downloading music from the platform. Both Apple iOS and Google Android users can take advantage of this promotion.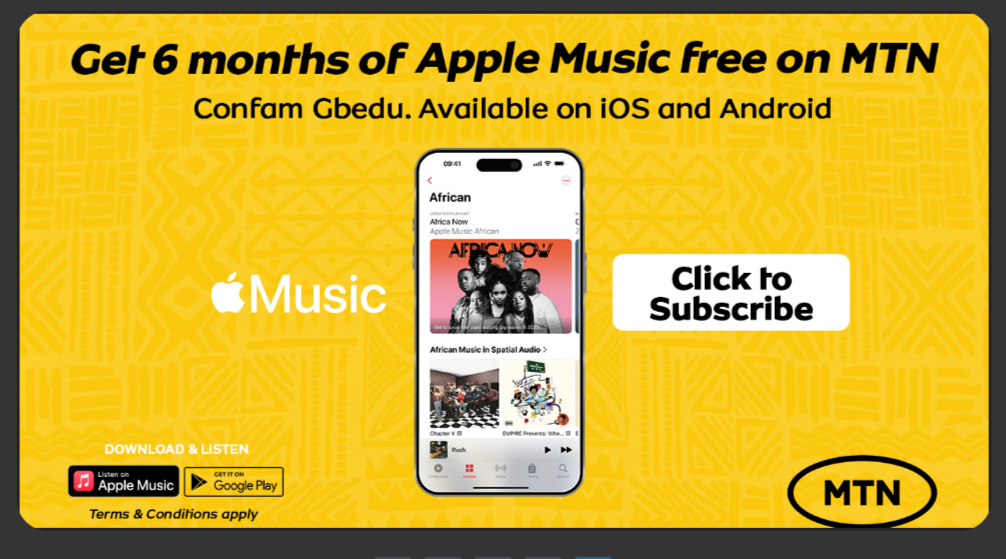 Customers of MTN will also have the option of using their existing airtime balances to pay for the music streaming service. On the MTN network, this feature is accessible to clients with both pre-paid and post-paid subscriptions.
"We are continuously on the lookout for opportunities that will allow us to do more for our clients and give them information and tools that are tailored to the way in which they live their lives. As Africans, the importance of music in our daily life cannot be overstated. We hope that with this relationship, we will be able to improve music distribution in Nigeria and make it simpler for Nigerians to consume music." Says MTN
The Apple Music catalog has millions of songs, with origins ranging from around the world to right here in the United States. According to A'isha Umar-Mumuni, Chief Digital Officer of MTN Nigeria.
"We are excited by the prospects of this relationship and look forward to exciting times."
Beginning on April 14th, 2023, you will be able to take advantage of this deal. Consumers can sign up for the service by using the MTN Play portal, which can be accessed at https://play.mtn.ng/apple-music; the myMTN App; or the MTN official website, which is located at www.mtn.ng. You can also subscribe to the service by sending the word "MUSIC" to the number 8000 or by dialing the number *447*2*4*1#.
---
See what others are reading: