What's not to love in a sale, you get those lovely outfits, bags, shoes you have been saving all year for at a PRICE SLASH with some extra to get yourself something nice alongside and the gadgets are definitely something to die for.
From home owners to tech gurus, people cannot just say no to the amazing prices prices you get when it comes to the holiday season price slashes.
It's the season of giving and your favorite companies are not left out, no one wants to end up on Santa's naughty list for being too greedy and that's why we got SALES.
From Black Friday to cyber Monday you get amazing price slashes and discounts on your favorite products and some of them are just too good to be true , well that's because they are.
Turns out it's not just your favorite company that wants to give back to you to thank you for being a faithful customer and to entice new customers to take part in that amazing looking sale.
Fraudsters and cyber criminals also want to give to you, just not what you ordered.
Sometimes we order things online, then we wait for the delivery and when it gets delivered it's not exactly what you ordered, either it is just a terrible look alike, or a completely different product and even worse it may not even have the particular function that made you buy the product.
It's quite disappointing to say the least but you can still send complaints to the company and ask for a product change to the one you originally ordered but you don't get this option when you order goods from scam sites and you may never even get the products at all so you just end up waiting a long time and eventually giving up .
Some Trending Must Read Articles
Everything you need to know about Romance Scam (Dating Scam) – Safety Guide
Top 5 Things You Need to Know About Romance Scams
Everything you need to know about Social Media Scams (Safety Guide)
How to Identify Scam Websites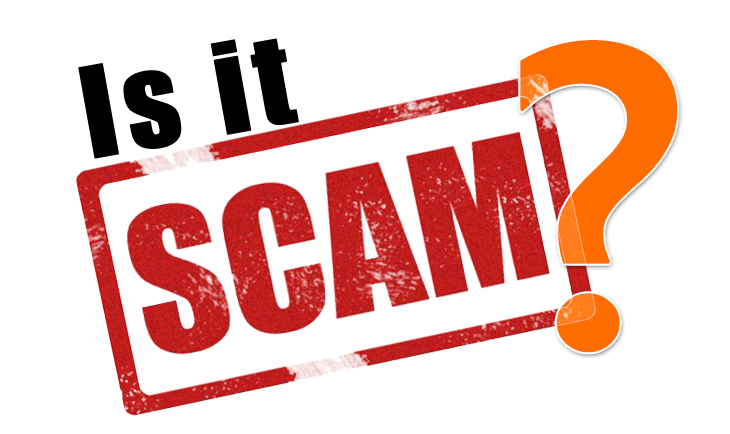 There are ways to identify scam sites so watch out for the following red flags
Unbelievable deals and discounts
Your first hunt should be if a price slash on a product is unbelievably high, while an organization wants to give back to the public it won't do so at the risk of going bankrupt so it's price slash margin is usually between 1-30% off the original price but scam sites offer you a high rate of 80-90% percent off a product to entice you to order one and more products.
The money they might make on just one product with such a high discount might not be much but when you calculate the amount coming in from other fake products and the amount of people lured into that website you will discover that it is a large sum of money.
2. High ratings with irrelevant reviews
These scam sites often show you that they have 5 star ratings from regular customers, in fact they may have very high ratings but this is another way to trap your interest.
When you see a site with very high ratings, check out the reviews and comments and you will often find that they are very generic and may not even be talking about that product in particular.
They praise the site too much and convince others people to order products off this site.
3. Odd payment methods
These sites only ask you to pay through wire transfers or using CashApps, you hardly every get the option to pay for a product on delivery, this is because they just want your money and have no plan of ever sending you the goods so immediately after adding the product to your virtual shopping cart you are asked to send a wire transfer or use cash app before you can have the product .
---
See this: Everything You Need to Know About the Covid-19 Scams (Safety Guide)
---
4. Invalid contact details
People make the mistake of waiting to check the validity of the supplied contact details until days after the due delivery date of a product and by this time your hard earned cash is long gone.
Before paying for a product or even checking out the goods on a slash sale, ensure that there is a contact detail and that it is valid.
Scam sites will always supply invalid contact details because they don't want you calling them or even tracing their location after they scam you .
5. Unusual requests for too personal information
This should be the greatest red flag to look out for, if it's asking too much then shut it down and leave that site, you can go a step further by reporting it to the authorities.
Giving out too much of your personal information to strangers online is never a good idea and it just leaves the door open for you to get scammed twice or even more .
Your personal information is your identity so you have to protect it.
---
Must Read: Scam: Top 5 warning signs to look out for in any Investment.
---
How to Protect Yourself from Scam websites
First step to protecting yourself from getting scammed with fake deals is by shopping only from legitimate stores. Organizations also give discounts and slash sales on their official company website or page, get your products directly from this company's page to make sure that you are not scammed and if by any chance you are sent the wrong package then you can easily return it to the company using your payment receipt as proof of purchase for that particular product .
Another method of avoiding fraud is to read completely the reviews that are written on any website you plan on patronizing. Do not be so anxious to get those deals but read through the reviews first and find out if they sound generalist in nature.
Always avoid too-good-to-be-true offers, they are never true and are just there to capture your attention and make you want to purchase from that particular website. No organization will give you a 90% discount on products or services because they also want to make their gain and they cannot do this when they are giving away the product and service practically for free. This is only done by scam sites to steal your money and even your personal information which they can use to commit more crimes not just against you but with people close to you though your identity.
You must never click on strange or odd links especially links with multiple spelling errors as they may be links to scam sites. When people share links with you, always check to make sure that they are not scam and also check the spelling of words thoroughly for spelling errors.
Download scam detecting Apps, having this app on your phone can be an extra layer of protection to prevent you from getting scammed. You can also avoid clicking on suspicious links.
If you found this article helpful, then you should probably take a look at the below handpicked articles just for you:
Explained: The New Coronavirus Scams & How to Avoid them
What exactly is a Fake Review & How to Spot it
How Scammers take Advantage of the Holiday Seasons