How to start up a mini importation business in Nigeria has been a recent trend on Google's search engine for some time now,
Many people believe you must have a huge amount of capital to start this highly profitable business and as a result, lose interest easily.
This article will expose everything you need to know about mini importation, some time ago, we posted an article on how to start a profiting POS business anywhere.  Just in case you missed that post, here's the link.
What is importation Business?
Importation Business simply means the act of bringing a commodity of value from one country into another country for the purpose of sales and to achieve profit via the difference in their currency rate between these two countries.
This business strives on the sales of low-budget commodities bought from a foreign country and sold at a significantly higher rate in another country.
What is a Mini importation business?
Mini importation business on the other hand is still the purchase of goods and commodities from a foreign country and selling these commodities at a higher amount in another country.
The difference between an importation business and a mini importation business is the scale at which they are both carried out.
While importation is done on a very large scale, mini-importation is done on a smaller scale.
To go into this importation business you will be needing a very large amount of capital but anyone with a little capital can start a mini importation business and most likely, build up capital to start a major importation business.
The scope of importation business
Do you know that every item is been sold at a very cheap amount of money? What makes these items increase costs over time is the number of retailers or middlemen that the product has passed through.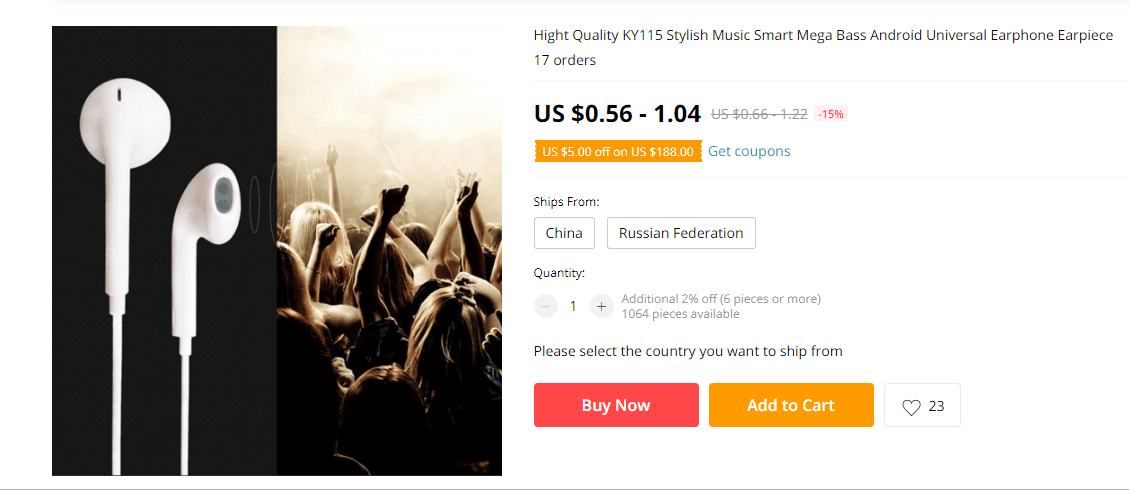 For the sake of our illustration, we will be using an ear piece.
The cost of an earpiece made by a china company is about $1.04 when converted to Naira, it goes for a ridiculous amount of N380. We believe you must have purchased an earpiece before and we know for a fact you did not purchase it for anything less than N1,000.
Now before this earpiece can get across to you, it goes through logistics (a company that helps import goods or waybill goods from one place to another).
This logistics company collects a certain amount for their services, The retailer who purchased this imported product also has to add a certain amount to this product, so he/she can make a profit without running into loss.
And if another retailer buys from this retailer to sell, he/she also adds an amount to this product as well. That's why you bought such product at that higher amount, the more people it has to go through the higher the amount it will be before it gets across to you.
Now, what if you can bypass these middlemen and go straight to the wholesaler and get this product?
Whatever amount you add on top of the imported amount becomes your profit, if you even choose not to add so much, this will certainly attract more customers and that's more sales for you.
Requirements to start a mini importation business in Nigeria
We know you are already eager to dive into this lucrative business, but there are certain things you need to have before starting up this business.
Capital: Like every other business, you need an amount of start-up capital, the higher your capital the more products you will purchase, and also the more varieties you will purchase.
E-commerce website: This is where you will be getting your goods from, you don't have to travel all the way to any foreign country just to purchase goods. One major advantage of using these shopping websites is that they also perform logistic services too, so you don't have to pay another company to help waybill your goods. Examples of these shopping sites include AliExpress, Alibaba, Amazon, etc. We highly recommend AliExpress since we know a lot of people currently using their services and there have not been any rising issues so far.They have an efficient 24-hour customer service and also allow free shipping, but we advise that you use their paid shipping service to enable your goods arrive on time. You can also ask for a refund if your goods get damaged in the process of getting across to you.

This is wonderful if you ask us. You can as well use other shopping websites, it's all a matter of choice.

Debit Master or Visa card: Some ATM cards can not perform business transactions in other currencies. Some of these shopping sites use only the dollar currency.So if you already have one, you are good to go. If not, try to get one from your bank as soon as possible.
How to start up a mini importation business in Nigeria
Having gotten all the requirements we listed above, it's time to start importing.
 Create an account with any e-commerce website we talked about before now, and make sure to fill in your true identity and preferred location to avoid unnecessary issues.
Explore the website for cheap but valuable products that you know your customers will purchase without a second thought. The aim is to sell as quickly as possible to amass more capital for future importation.
Confirm your orders and pay for your goods, like we advised before do not use the free service or you risk your goods coming in later than expected.
Some samples of goods to start with
Your choice of products to import, highly depends on your capital, whatever you wish to import make sure to purchase in varieties and also buy with the mindset of your customers.
Phone and Phone accessories: Products such as power banks, earpieces, phone pouches, etc tend to be in higher demand. You can start off importing phone accessories and build up enough capital to start purchasing phones.
Bags: Bags are a thing of trend, especially for female folks, they can never have too many bags. Dive into the purchase of different varieties and colors of bags and you are sure to start huge profits in no time.
Beauty and Health accessories: Products such as nails, makeup, hair styling, etc you know what products your customers are likely to purchase without a second guess. Buy them in varieties and start making profit returns.
There are so many other commodities to list but we will stop here, explore these e-commerce websites and start making profits.
Share this article that covers how to start mini-importation with your friends by clicking on any social media icon below.
other articles that will interest you are: