Just recently, we've heard a large number of people complaining about their Facebook accounts being hacked.
The most interesting thing to note is that the majority of Facebook accounts that are being hacked belongs to the elderly ones amongst us.
It simply means that the older ones are at a disadvantage compared to the younger folks due to a very good reason.
You already know what that reason is. Technological awareness.
This is the more reason you need to follow us and like our pages on all social media platforms to remain aware of the latest technological trends.
The simply truth is that hackers are becoming more prevalent, than they used to be.
Authors Recommendations
Key Takeaways
Make sure that your Facebook password is difficult to guess in order to keep your account safe from hacking attempts (combinations of Capital letters, small letters, numbers, and symbols).
If you haven't changed your password in a while, it is recommended that you do so immediately.
You must enable Two-Factor Authentication on your account, which will warn you as well as providing you a code to confirm if someone is attempting to log into your account without your authorization.
How to Enable Two Factor Authentication on Facebook Mobile
Start by launching the Facebook application and selecting the menu tab (it's at the right hand corner of your Facebook navigation bar).
Select Settings & Privacy from the drop-down menu.
Then select Settings from the drop-down menu.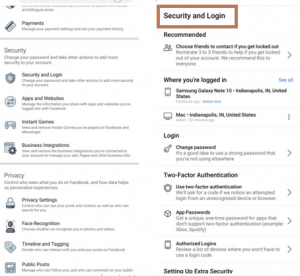 Log in to your account by selecting Security from the Security drop-down menu.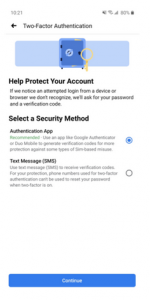 Under Two-Factor Authentication, select Use two-factor authentication from the drop-down menu.
Select either an Authentication App or a Text Message(SMS) as your authentication method.
If you choose the first option, you will be required to scan the QR code that has been provided. You can tap the code underneath to copy it to your clipboard, then paste it into the authenticator app for manual setup if your authenticator app is unable to scan the code in a separate app.
Enter the confirmation code that was sent to you via SMS or through your authenticator app.
You should receive a confirmation box confirming that two-factor authentication has been setup for your Facebook account after you've done these steps.
How to Enable Two Factor Authentication on Facebook Web
Log into your Facebook account and select Settings from the drop-down menu, or go to web.facebook.com/settings.
Select the Security and Login sub-menu from the main menu.
To use two-factor authentication, select Use two-factor authentication.
Facebook will then send a test code to your phone, which you must accept in order to use the service.
Alternatively, if you have an authentication app installed on your smartphone, select that option.
We believe that the SMS method is considerably superior to the authenticating app due to your mobility.
Following activation, Facebook will send you a code each time you attempt to log into your account or the account of someone else from a different device.
If for some certain reasons, you are not able to find what you hoped you will find. Kindly drop a comment in the comment section below and we will immediately point you in the right direction.
If this post was helpful, feel free to click on the social media icon below to share with friends and families, remember Sharing is Caring!
See Related Posts