The COVID pandemic has plagued and still plagues the world. Face masks have become part of fashion, viewers are scared of cinemas and other public gathering locations resorting to streaming services, stadiums and other places.
Large gatherings only let people in after following all the necessary protocols but that's a tale for another day.
Scammers have taken advantage of the mass Paranoia during this trying time to extort money from the
unsuspecting masses both online and in the real world. During the lockdown alone, stats shows that the number of schemes and the people defrauded was unusually high.
Let's take a quick walk, we'll talk about the fraudulent schemes that have risen amidst the chaos of the COVID-19 pandemic.
Popular Covid-19 Scams
Recommended Article from the Author
Everything you need to know about Social Media Scams (Safety Guide)
Everything you need to know about Romance Scam (Dating Scam)
Everything You Need to Know About the Covid-19 Scams (Safety Guide)
FRAUDULENT PROTECTIVE EQUIPMENT
This was first rampant when the pandemic first began, due to the fact that most if not all the world's medical populace was hopelessly unprepared for the outbreak.
The race to get personal protective equipment (PPE), sanitizing materials and other supplies began and caused many sellers to run out of these vital items. As a result, many traders reverted to looking to unfamiliar online marketplaces to secure these items.
As all things of such nature, scammers came out to play and many people fell victim to paying for substandard equipment and materials or worse, materials that never came.
The sad truth is this is still very much an issue till now just not as serious as it was during the early stages
of the pandemic. So whenever possible, purchase from legitimate websites and suppliers. When unsure check RC codes, reviews, documentation and so on.
---
Must Read:How to Easily Spot Fake Scam Reviews on Top Trending Review Websites
---
CYBER SCAMS AND PHISHING
A stats carried out by a known Cybersecurity company noted that 8 out of 10 email scams now include something on or relating to the COVID-19, using the fear and panic around the pandemic for their benefit.
Some are weird and straight forward like asking you to donate to some fake COVID-19 relief Fundraiser, others might claim to be World Health organization (WHO) personnels asking for information that will then give them access to your bank account, or even some links to conspicuous websites that will steal your data or give your malware.
Must Read: How Scammers take Advantage of the Holiday Seasons (Exposed)
How to avoid Covid-19 Scams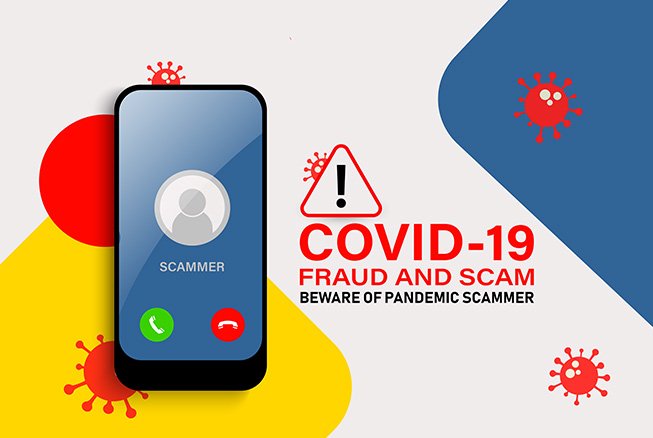 To protect yourself from COVID-19 cyber scams, try taking these extra precautions:
 Avoid opening suspicious emails, claiming to be from an established well known medical organizations asking you to give money or something related.
Try as much as possible to Password protect your video conference calls and do not post a link to a video call on vulnerable platforms.
If the government for some reason is giving financial compensation, do not enter your personal bank information anywhere except for official government websites. If unsure, call your local officials to get the correct information.
Lastly, If you're donating to COVID-19 relief efforts or charitable organizations, verify and confirm the charity's authenticity before making any form of monetary donations.
FAKE TESTS AND OTHER MEDICAL CLAIMS
There have been cases of criminals calling, emailing or messaging people claiming to be medical personnel telling them to come for one test or the other or for COVID 19 detection device installation and what not.
They collect bank information and various sensitive information from the unsuspecting victims, take the money from their accounts, and then disappear.
With so much misinformation going around all under the guise of the COVID-19 pandemic, one needs to be
very cautious;
Safety Guide for Covid-19 Scams
 Best be careful of any so called at-home test kits being sold online. Most if not majority of them being advertised have not been government approved.
Try your best to Ignore any offers from any form of cures as there is no known treatment for COVID-19 only the currently approved vaccine taken at government approved locations.
If you are looking for a home test kit, speak with your physician or local hospital about such.
Try your best to avoid medical advice from viral videos, or even articles not presented by certified medical professionals or your official government agencies.
USE REVIEWS TO BUY WITH CONFIDENCE
We will definitely continue to see scams popping up daily under COVID-19 pandemic umbrella – so to speak,
which means as an individual one should be on the lookout to avoid falling a victim.
Also, steps should be taken to ensure that platforms to buy things like test kits, face masks, preventives, insurance and the likes are trustworthy  in order to avoid hearsay.
Like I said and will see continue to say, if the offer seems too good to be true (cheap kits, surprisingly big discounts on personal protective equipment, free cure, cheaper medical insurance and the likes) it's most likely not true.
When interacting with a new business and buying items related to your health, make sure you check multiple sources to confirm that the products are genuine, legal, and trustworthy. It is also nice to use open review platforms to see what other consumers are saying about their own experiences with the business.
If you've been exposed to a scam or a suspicious business, report it to the authorities at once and let other consumers know by leaving a review that can help someone else.
This year has been on those years, ups downs sideways and sharp curves and once again it is coming to an end and according to the news, new cases are springing up everywhere. That doesn't mean we have to be worried, it just means we have to be a lot more careful in everything we do.
Still driving home the fact that we should alert and cautious. Fraudsters and/or scammers are every where and they are looking for people to swindle, please be vigilant and try your best to observe the aforementioned guidelines.
This article my not be long but it will go a long way in keeping you safe from scammers. So once again from yours truly, happy holidays!
See what others are reading:
How to Spot and Avoid Tech Support Scam
The Top Common Investment SCAMS on Social Media Platforms
Must Read: Top 3 Risks of Subscription Sharing Platforms